[i love sharing products i've tried with others, so every once in a while, i'll bring you a "try it out" day! and here's the first one:]
[image via. mine's green!]
i made a comment on see mo go's makeup routine the other day that i use my clarisonic mia as a part of my routine and sweet mo asked what i thought of the clarisonic brush, so after 2 weeks of consistent use [i've had it over a month, but, i uh, forget sometimes] here's my review:
firstly [is that a word?], i want to explain what the clarisonic brush is and what it's supposed to do. basically, the brush uses a sonic frequency to help cleanse the skin. this frequency moves the brush at more than 300x per second which helps thoroughly clean pores.
removes makeup 6x better than traditional methods [like using your hands]

clears pores and reduces the appearance of pore size

cleanses so thoroughly that skincare products absorb better

creates noticeably healthier looking skin
[they had me at 'reduces pore size', where'd they have you?]
i went to sephora to get my clarisonic and they did a great job of demonstrating the different brushes [there are 3: aria, mia, and mia 2]. i walked out with the mia which, at $119, is the cheapest of the 3, with 1 speed [as opposed to the multiple speeds of the other two].
i have combination skin that's oily in the summer and dry in the winter. i'm prone to breakouts [
that i have under control with proactiv
] and already have a set skincare routine that really works for me, so it was important to me that i wasn't "stuck" to a particular cleanser that "works best" with this tool i was buying, and i happily found out that i could use any cleanser [
as long as it was non-abrasive, so stay away from those scrubs
], including my proactiv. [so far, so good].
here's how you're supposed to use the clarisonic:
charge it

wet your skin and apply the cleanser to the brush head

use a circular motion;

20 seconds on the forehead,

20 seconds on the nose/chin,

and 10 seconds on each cheek
my verdict?
i used my clarisonic mia mostly at night because that's when the bulk of my skincare routine happens and initially,
i only noticed that my skin
felt
cleaner, but didn't notice any changes in pores [
so annoying
] or the overall promised healthiness
.
BUT [big but]
after two solid weeks of consistent use once a day [
you could do twice a day
], i'm definitely starting to see some changes. for instance, [and sorry if this is gross] a stress zit that set up shop on my chin disappeared [i credit the mia with letting my proactiv get in deeper] and my foundation, when i wear it, lays better [if that makes sense], and my skin, on days when i don't use foundation, looks better.
so, while it may take a couple of weeks of consistent use, the clarisonic brush [whether you get the mia, mia 2 or aria] is totally worth the splurge.
have any of you tried it? what was your experience?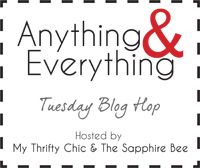 [linking up with my thrifty chic & the sapphire bee!]